Nick and I have trekked in the Langtang, Annarpurna, Mustang,  Kangenjunga, Manaslu, Naar & Phu, Humla & Limi and Everest regions of Nepal. We have also visited and trekked in Tibet – doing the kora of Mount Kailash. Trekking is great fun and allows you to meet the people of the area and really experience the culture.
If you would like me to give a talk to your organisation or interest group, please contact me via the contact page. I love sharing my experiences and can help plan your trip, especially from a woman's point of view.
Fundraising for Nepal…can you help?
Since the devastating earthquakes hit Nepal in 2015 my students and I along with family and friends have been raising money to help a village set high up in the hills to the East of Kathmandu.  My very good friend Binay Lama comes from this village and I will share more of him later!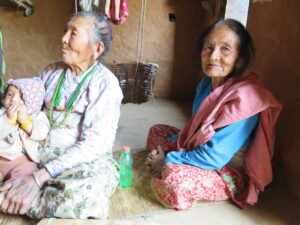 At the end of our trek in January 2020 I found out that the village of Danda Tole, where the lowest caste families live, part of Binay's wider community, that they do not have water near their homes.  They spend on average three hours a day carrying water.  I thought it would be great to help sort this out…little did I know it would be such a big project to do it properly.  It took most of 2020 to get an engineer to work out where there is a reliable source and to produce the full project proposal.  We have all the information needed, but we just need the funds to do the project.  You can read the project proposal here.
If you would like to help us raise the necessary funds that would be wonderful.  We have a letter you can send here, or get in touch with me and I can send with a little further background as to why this is so important.  I have tried to get WaterAid Nepal involved but they do not have the funds.
Thank you in anticipation!